Greek Revival Style Home
Posted by Anthony Licciardello on Monday, September 5th, 2011 at 5:01pm.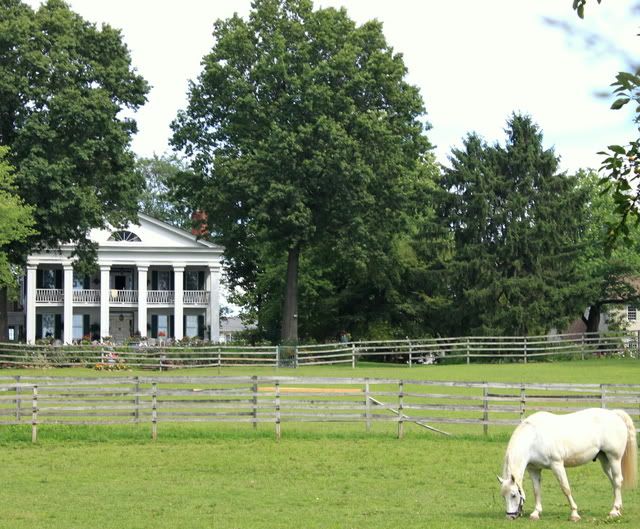 In 1762, "The Antiquities of Athens and Other Monuments of Greece" was published by James Stuart and Nicholas Revett, two architects from England who had travelled to Greece to study its ancient architecture. Upon their return from Greece, the Chancellor of the Exchequer, George Lyttelton, had Stuart create Hagley Hall, the first Greek building to be constructed in England. Many architects used this newfound style for ideas, but it was kept quiet until the nineteenth century. During the early years of the 1800's, William Wilkins went on to be become a prominent architect of the Greek Revival-style in England.
"The Antiquities of Athens and Other Monuments of Greece" was not only popular among architects in England. In 1803, President Thomas Jefferson had architect Benjamin Henry Latrobe design a significant amount of buildings in Washington, D.C. and Philadelphia. During the 1830's the Greek Revival-style became quite popular among American architecture. This popularity lasted for about two decades
.
There are many distinguishing features of Greek Revival-style architecture which differentiate it from other architectural styles. Greek Revival-style buildings are symmetrical in shape, with symmetrical fenestration. The front of the building will normally have a pedimented gable. Below will be a heavy cornice that has a simple frieze underneath, followed by an architrave. On most Greek Revival-style buildings, there will be an entry porch with columns directly underneath the architrave. Many times, there will be decorative pilasters on the walls of the building's exterior.
Due to its prominence between the 1930's and 1950's, many Greek Revival-style buildings were constructed on Staten Island. Some of them were even dedicated as New York City Landmarks. In 1835, wealthy landowner Caleb T. Ward had George B. Davis build a mansion for him at 141 Nixon Avenue. This mansion, which is atop Ward Hill, was designated as a New York City Landmark in 1978. In 1838, Joseph H. Seguine built the Seguine Mansion (Pictured above)for his family in Lemon Creek Park, which is in the neighborhood of Prince's Bay. This sixteen-room historic house became a New York City Landmark on May 25, 1967. In 1840, the Biddle House was constructed in the neighborhood of Tottenville. This home was dedicated as a New York City Landmark on May 1, 1990.
Blog Tags
---
Be the first to comment on this blog entry!
---
Leave a Comment