The reign of the Tudor dynasty in England began in 1485 and ended in 1603. During this time, the architectural Tudor-style was introduced. This style mimicked some of the aspects of Medieval cottages. The characteristics of Tudor-style houses included black-and-white half-timbering; porches with pillars to support a jettied gallery above; thatched roofs with high chimneys; cross gables; tall, narrow doors; and tall, narrow and mullioned windows. The Tudor-style home also made use of the Tudor arch, which normally has more width than it does height, with a pointed apex that seems to have been crushed. (Pictured left Tudor Style Home in Randall Manor, Staten Island)
During the nineteenth century, revivalisms were being done of past architectural styles. By the mid-nineteenth century, Tudor Revival was introduced in the United Kingdom. This revival-era took the aspects of the Tudor architectural style as described above and used them in the modern homes being built with modern materials. Some of these new houses even had thatched roofs, like the past Tudor houses.
By the early twentieth century, the Tudor Revival architectural style was introduced to the United States, where it became quite popular. Many houses on Staten Island, which have even been designated as New York City Landmarks, are of Tudor Revival-style architecture. For example, Public School 28, which was constructed in the Tudor Revival-style in 1908, is currently located in Historic Richmondtown, where it stores the Historic Society's archives. On September 15, 1998, it was designated as a New York City Landmark.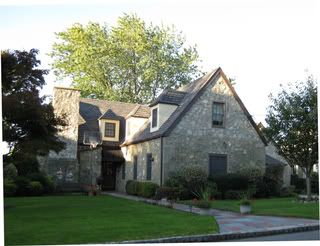 Photo Below Right, Tudor home in Grasmere, Staten Island.)
The St. George Historic District and the Stapleton Heights Historic District each have a house which was given Tudor-style detail. In the St. George Historic District, the house at 7-8 Phelps Place was built by around 1890 in the Shingle Style, but has half-timbering on the third floor. This house, in addition to the rest of the houses in the district, was designated as a New York City Landmark on July 19, 1994. The house at 65 Marion Avenue, in the Stapleton Heights Historic District, was built by around 1921 in the Arts & Crafts architectural style. The second floor, however, has Tudor-style half timbering. This house, along with the other houses in the district, was dedicated as a New York City Landmark on June 29, 2004.
Leave a Comment